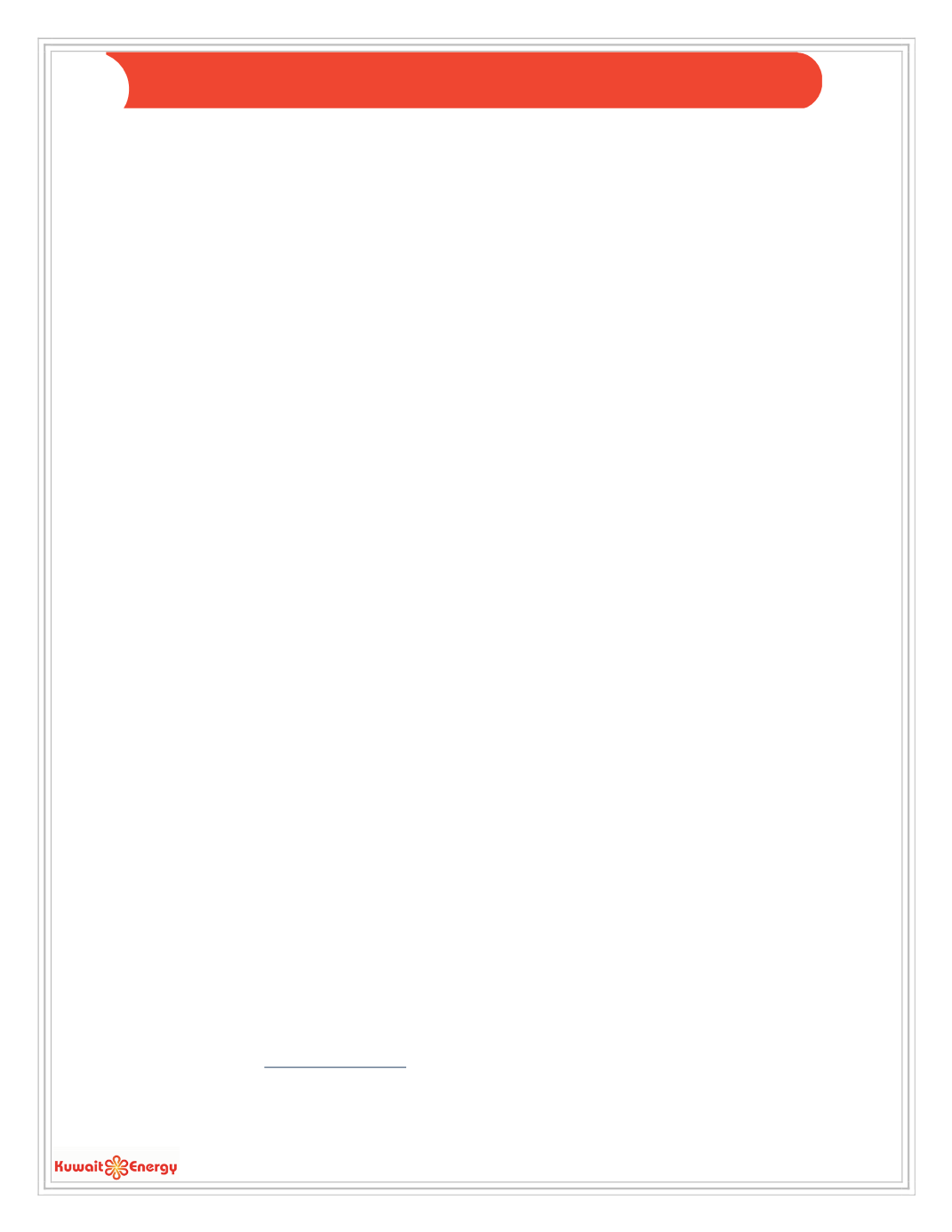 1
Who We Are
Kuwait Energy is an independent oil and gas company actively engaged in the exploration, appraisal, development
and production of hydrocarbons. Since establishment in 2005, we have built a high-quality, diversified portfolio of
oil and gas assets in the MENA region across Iraq, Egypt, Yemen and Oman. Our MENA portfolio consists of 10
exploration, development and production assets, of which we operate seven.
Kuwait Energy has its registered office in Jersey, its head office in Bahrain, its regional operational hub in Kuwait and
area offices in Basra, Baghdad, Cairo and Sana'a.
Key Highlights
•
Kuwait Energy in the reporting period of YTD September 2017 has experienced two incidents categorised
as a
recordable Lost Time Incident
("LTI") in its operated areas, the latest LTI being at Siba (Iraq) in August.
•
Average daily WI production
for the period was
26,962 boepd.
The total WI production volume
for the
period stands at
over 7 mmboe.
•
At
Block 9 (Iraq),
Kuwait Energy
completed the drilling,
on the 9 September 2017,
of its fourth well –
Faihaa-4
. We anticipate production from the new well to commence in Q1 2018. Although drilling is
complete, we have pending infrastructure works at the
Faihaa-4 site which will be finalised in the coming
months
.
•
In Basra (Iraq),
the Company was allocated by the State Oil Marketing Company ("SOMO"), a
crude cargo
of 800,000 barrels
(Kuwait Energy's share) of Basra Light. This third Iraqi crude payment has been
the
Company's largest payment to date
- covering Block 9 production for 1H 2017. The majority of the proceeds
from this third cargo, approximately US$30 million, will be used to repay the forward sales agreement with
Vitol. This is the second such payment to Vitol – with over US$10 million from our last Iraqi crude cargo
(detailed in the previous Operational Activity Report ("OAR") - YTD June 2017) having been paid to them
already. Kuwait Energy still retains the option to draw down the remaining US$40 million from the Vitol
facility.
•
In
Cairo (Egypt),
via a deed of assignment signed on 9 September 2017, Kuwait Energy received
government
approval for the farm-out of 25% of its shares in the Abu Sennan (Egypt) concession to a new partner -
GlobalConnect
. Post the farm-out, Kuwait Energy now holds a 25% revenue interest and remains the
operator of the Abu Sennan concession, with the other partners stakes being: GlobalConnect (25%), Dover
Investment Ltd (28%) and Rockhopper Exploration plc (22%). The completion of the farm-out has also seen
the Company receive the remainder of the transaction amount from GlobalConnect.
Financial Reporting
Under the US$250m Senior Notes reporting requirements, Kuwait Energy is required to provide quarterly
unaudited management accounts within 90 days of the end of the first three quarters of the financial year and
audited financial statements within 120 days of the end of each financial year, all of which are available on the
Kuwait Energy website
(
www.kuwaitenergy.co
)
. The most recent financial report was issued at the end of
September for the unaudited 1H 2017 financials and the
next financial report will be for the 9-month 2017 YTD
accounts, scheduled to be issued before the end of December 2017.
A
T
A G
LANCE