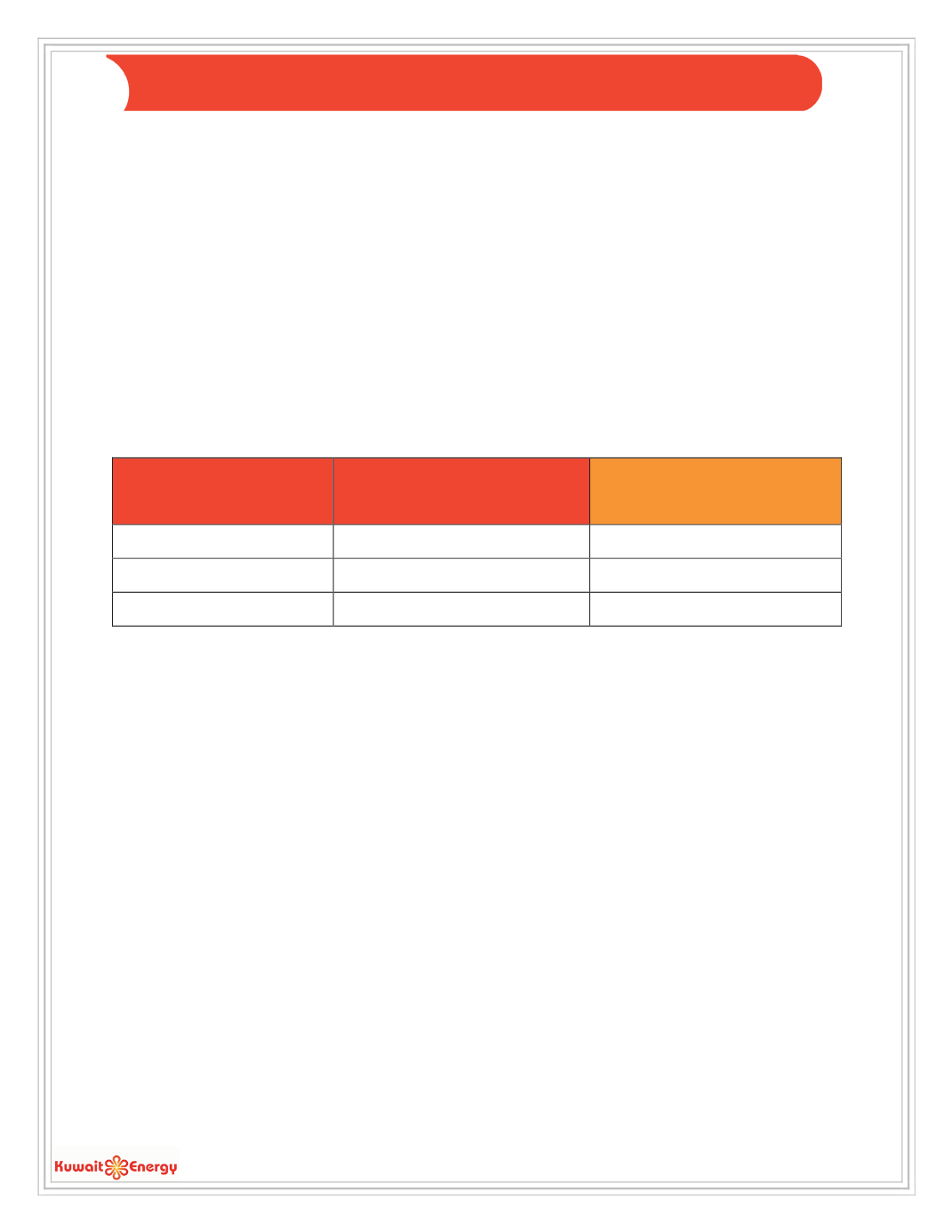 `
2
Health, Safety, Sustainability and Environment
Kuwait Energy classifies its recordable incidents as being either a
Fatality
,
Lost Time Incident ("LTI"), Restricted
Work Incident or Medical Treatment Incident.
Kuwait Energy in the reporting period has had
two incidents that were classified as a LTI in its operated assets
. The
first LTI of the reporting period occurred in March of this year in
Block 9 (Iraq)
– when two local workers deliberately
crossed the mine barricade fence leading to the triggering of an ERW which exploded causing serious foot injuries.
The second LTI occurred in August at the Siba (Iraq) concession - when a rigger, in violation of Kuwait Energy's HSE
procedures, fell from substandard scaffolding that hadn't been approved or authorised for use on the site. The two
incidents in Iraq, although unfortunate, have been
the only incidents in over 6.7 million man-hours worked YTD
in
Kuwait Energy's operated areas.
The table below provides the number of days without an LTI in Kuwait Energy's countries of operation both at the
end of the reporting period and at the end of 2016:
Country
Days without LTI
(at the end of
September 2017)
Days without LTI (at the of end of
2016)
Iraq
52
816
Egypt
593
320
Yemen
1215
576
Production
For the reporting period (YTD September 2017), Kuwait Energy achieved an
average daily WI production
of
26,962
boepd
, an
increase of 11.9%
on the
corresponding period last year
(24,088 boepd
)
.
Total WI production for the
reporting period was 7.36 mmboe
, an
increase of 11.5%
on the same period last year (6.60 mmboe).
The Company's production growth is a direct result of the expansion of Iraqi activities at
Block 9 (Iraq)
.
Exit WI
production
for the reporting period at Block 9 was
9,297 boepd – a slight decrease from the last reporting period,
due to flow rates being purposely restricted as part of our well management strategy. With the anticipated
start-up
of Faihaa-4, first gas at Siba and the future completion of Faihaa-5
(due to be spud by the end of the year), the
Company envisages a substantial increase in output from its Iraqi activities during 1H 2018.
In Egypt,
production targets for the reporting period were exceeded,
primarily due to our work over and well
management program, with
Egyptian average daily WI production for the reporting period at 15,114 boepd
. A
prime example of the Company's work over programme in action can be seen at the
Burg el Arab
development –
which has seen
average daily WI production increasing throughout the year
(1,051 boepd in YTD March 2017 to
1,188 boepd in YTD September 2017).
Our
Yemen production remains suspended due to the on-going civil conflict
; however, the Company is positioned
to restart activities when the situation in the area permits.
O
PERATIONAL
A
CTIVITY