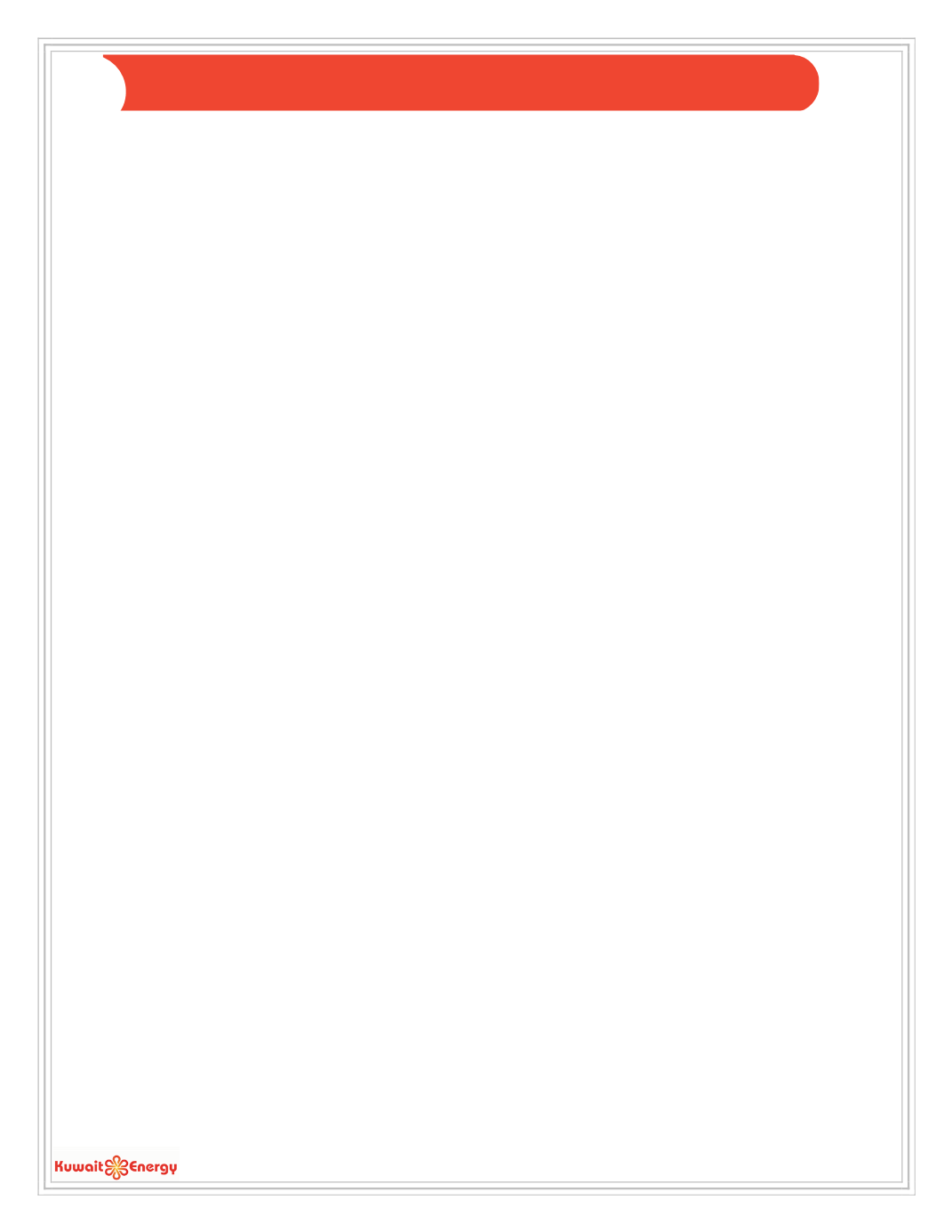 7
Operations
Kuwait Energy continues to
focus on the MENA region
with a direct presence in Iraq, Egypt, Yemen and Oman.
In
Block 9 (Iraq),
the newly drilled
Faihaa-4 well
is anticipated to commence
production during Q1 2018.
The
pending infrastructure works, needed for Faihaa-4 commissioning, are progressing well and the Company does not
envisage any further delays. The Company remains on course for the spudding of the
Faihaa-5
well by the year end;
whilst planning and procurement for the
Fahiaa-6 well
has already begun - with a view to drilling commencing in 2H
2018.
The Siba (Iraq) Gas Plant's
remaining Engineering, Procurement and Construction works are ongoing and nearing
completion. To ensure that
first gas will commence in Q1 2018, the Company intends to carry out the
Commissioning works in parallel with the remaining Electrical & Instrumentation works. Once online, Siba
will
initially process 50 mmscfd per day, before ramping up to a
plateau of 100 mmscfd in 2H 2018
. In addition to the
main Siba output (100 mmscfd), approximately
15,000 boe (Gross) of additional Gas condensate
is expected when
production reaches the plateau rate
.
To aid in streamlining our Iraqi Operations, the Company has
recently appointed a new in-country President and
new asset managers to Siba and Block 9.
The new appointments will be charged with
overseeing and ensuring the
completion of the Company's pending Iraqi projects – further increasing in-country production
.
One significant effect
of the
increased Iraqi production
is that the Company can plan for a greater frequency of crude cargo payment of a
similar size to the recent SOMO shipment (
800,000 bbls of Basra Light
).
In
Egypt
, Kuwait Energy will continue its successful
well management and work over program
to optimize
production from its mature assets.
In
Yemen
, Kuwait Energy continues to monitor the situation and is
operationally-ready to
commence production
when the situation permits.
Sustainability
As part of our HSSE efforts, Kuwait Energy continues to apply the leading HSSE auditing programs; as shown by
Egypt's Area A and Cairo Office's
renewal of their ISO 14001 and OHSAS 18001 certifications - now valid until
April 2018
.
O
UTLOOK